<!- but skip insert if both are false -->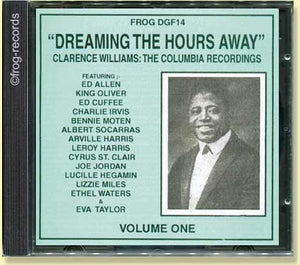 Clarence Williams Vol: 1: Dreaming the Hours Away :
SKU: DGF14
Clarence Williams was a legend in the world of Jazz & Blues. He was a businessman, talent scout, songwriter, pianist & band leader who most importantly organised many of the greatest recording sessions ever put on record. His legacy to the world of American music is incalculable.
The first volume of the classic Columbia recordings brings together all those made under the name of Clarence Williams and His Jazz Kings plus related issues made between 1926 and 28 and featuring an impressive line up that includes Ed Allen, King Oliver, Joe Jordan, Bennie Moten and Ed Cuffee as well as some tough vocals from Lizzie Miles & Eva Taylor. All heard in glorious sound quality.
Joe Jordan's Ten Sharps And Flats 
Lucille Hegamin 
3
Nobody But My Baby Is Getting My Love 
Clarence Williams' Jazz Kings 
5
Gravier Street Blues 
7
I'm Goin' Back To Botomland 
9
Dreaming The Hours Away 
14
I Need You Lizzie Miles 
15
You're Such A Cruel Papa 
16
My Dif'rent Kind Of Man 
Clarence Williams' Jazz Kings 
17
The Keyboard Express 
Ethel Waters 
20
Organ Grinder Blues 
21
Get Up Off Your Knees
Irene Gibbons
22
I'm Busy And You Can't Come In 
23
Jeanine I Dream Of Lilac Time
---
We Also Recommend
---