<!- but skip insert if both are false -->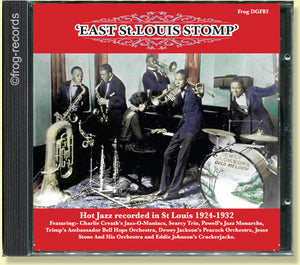 East St. Louis Stomp: Hot Jazz Recorded in St. Louis 1924-1932
SKU: DGF83
If you think some of these titles are familiar – then think again. These sound like never before. Remastered by Nick Dellow from The Mark Berresford collection are arguably 25 of the greatest and hottest jazz recordings made in the 'Mound City'  between 1924 and 1932. Compiled and produced by Paul Swinton with notes by Christopher Hillman.
"The best Frog yet – and that's saying something!"
Play a sample clip (~1 min)
CHAS. CREATH JAZZ- O - MANIACS
1. Pleasure Mad
2. Market Street Blues
3. I Woke Up Cold In Hand
4. King Porter Stomp
5. Every Man That Wears Bell-Bottom Britches Ain't No Monkey
6. My Daddy Rocks Me (With One Steady Roll)
7. Market Street Stomp
8. Won't Don't Blues
9. Way Down In Lover's Lane
10. Grandpa's Spell
SEARCY TRIO
11. Kansas Avenue Blues
12. East St. Louis Stomp
POWELL'S JAZZ MONARCHS
13. Chauffeur's Shuffle
14. Laughing Blues
DEWEY JACKSON'S PEACOCK ORCHESTRA
15. She's Crying For Me
16. Capitol Blues
17. Go 'Won To Town
18. What Do You Want Poor Me To Do?
TRIMP'S AMBASSADOR BELL HOPS ORCHESTRA
19. What A Man
JESSIE STONE AND HIS BLUE SERENADERS
20. Starvation Blues
21. Boot To Boot
CHAS. CREATH JAZZ - O - MANIACS
22. Butter-Finger Blues
23. Crazy Quilt
EDDIE JOHNSON'S CRACKERJACKS
24. The Duck's Yas Yas Yas
25. Good Old Bosom Bread
---
We Also Recommend
---