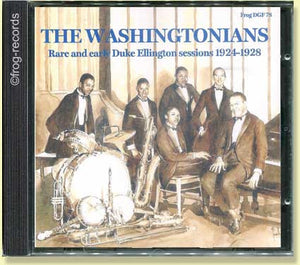 The Washingtonians and Kentucky Club Sessions - Duke Ellington 1924-1928
SKU: DGF78
Now available!  Duke Ellington's earliest and rarest titles in one incredible set demonstrating how Ellington's genius evolved through the hot jazz & swinging dance band traditions of the 1920s.
When Duke Ellington took over the Washingtonians from Elmer Snowden in 1924, a band of rare quality launched the careers of some of the greatest musicians in Jazz history - including Ellington himself – as composer, bandleader, pianist and future genius in the world of music.
The essential and earliest recordings of the first Duke Ellington incarnation, The Washingtonians. Including the rare Blu-Disc and Gennett sides with Bubber Miley, Sonny Greer, Charlie Irvis, Don Redman, George Thomas and a host of world class soloists and sidemen. All heard in the best sound ever with extensive notes by Ellington expert Joel O'Sickey.
Play a sample clip (~1 min)
THE WASHINGTONIANS
1
Choo Choo (Gotta Hurry Home)
2
Rainy Nights
    3    I'm Gonna Hang Around My Sugar
4
Trombone Blues
DUKE ELLINGTON'S WASHINGTONIANS 
5
Georgia Grind
6
Parlor Social Stomp
DUKE ELLINGTON AND HIS ORCHESTRA 
7
(You've Got Those) Wanna-Go-Back-Again Blues
8
If You Can't Hold The Man You Love
DUKE ELLINGTON AND HIS WASHINGTONIANS 
9
I'm Just Wild About Animal Crackers
10
Li'l Farina
DUKE ELLINGTON AND HIS KENTUCKY CLUB ORCHESTRA 
11
East St. Louis Toodle-O
12
Birmingham Breakdown
13
Immigration Blues
14
The Creeper
15
The Creeper
16
New Orleans Low-Down
17
Song Of The Cotton Field
DUKE ELLINGTON AND HIS ORCHESTRA 
18
What Can A Poor Fellow Do?
19
Black And Tan Fantasy
20
Black And Tan Fantasy
21
Chicago Stomp Down
DUKE ELLINGTON AND HIS COTTON CLUB ORCHESTRA
22
Red Hot Band
23
Doin' The Frog
THE WASHINGTONIANS 
    24    Sweet Mama (Papa's Gettin' Mad)
    25    Stack O'Lee Blues
    26    Bugle Call Rag
Please note: The Frog booklet for this release failed to make clear that besides providing the excellent notes for this issue Joel O'Sickey together with Nick Dellow and Mark Berresford provided the majority of the original 78 transfers, which Nick then restored together with the other transfers provided. The label pictures on page 16 were from the Joel O'Sickey collection and Randy Stehle kindly provided his copy of Vocalion 1086 for transfer.
---
We Also Recommend
---