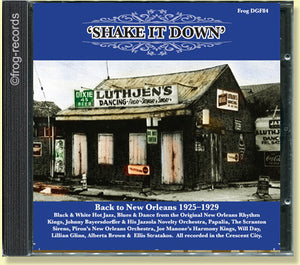 Shake It Down: Back To New Orleans 1925-1929
SKU: DGF84
Contained in this latest issue are 25 of the finest examples of Jazz, Hot dance & Blues vocals performed by residents and visitors to 1920s New Orleans. (This is the long awaited companion volume to Frog CD DGF 5 'Sizzling The Blues')  All to be heard in glorious sound and all originally recorded in the City that was the cradle of Jazz.
"Simply stunning!".. Chris Henderson – The Times.
Compiled and produced by Paul Swinton
Transfers & sound restoration by Nick Dellow from the Mark Berresford collection.
Play a sample clip (~1 min)
Original New Orleans Rhythm Kings
1. Baby
2. Never Knew What A Gal Could Do
3. She's Crying For Me Blues
4. Golden Leaf Strut
Johnny Bayersdorffer & His Jazzola Novelty Orchestra
5. I Wonder Where My Easy Rider's Ridin' Now?
6.The Waffleman's Call
Papalia And His Orchestra
7. Cross-Word Mama, You're Puzzling Me
8. Sometime When You're Alone
The Scranton Sirens Orchestra
9. Why Should I Believe In You?
10. Common Street Blues
Piron's New Orleans Orchestra
11. Red Man Blues
12. Red Man Blues
13. Do Just As I Say
Joe Manone's Harmony Kings
14. Sadness Will Be Gladness
15. Cat's Head
16. Up The Country Blues
17. Ringside Stomp
Lillian Glinn
18. Shake It Down
Will Day
19. Central Avenue Blues
Lillian Glinn
20. Where Have All The Black Men Gone?
Will Day
21. Sunrise BluesAlberta Brown
22. Lonely Blues
23. How Long Blues
Ellis Stratakos & His Hotel Jung Orchestra
24. A Precious Little Thing Called Love
25. Weary Blues
---
We Also Recommend
---