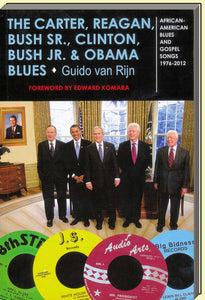 The Carter, Reagan, Bush Sr., Clinton, Bush Jr. & Obama Blues
SKU: AG-Bk4
Hardback Book
The Carter, Reagan, Bush Sr., Clinton, Bush Jr. & Obama Blues: African-American Blues And Gospel Songs 1976-2012
Description:
The present book does not deal with one or two presidencies, but with six. This is evidence of the fact that traditional blues and gospel music are dying art forms. Still, enough blues and gospel songs with a socio-political content were traced to enable the writing of chapters on each of the six latest American presidents and to analyze African-American perception of the most memorable events of their presidencies.
President Carter's Blues starts with the warm reception the President received from the blues singers. But the continuing energy crisis and the failure of the President to tackle the economy soon led to frustration and disappointment.
President Reagan's Blues shows how Reagan's tough and successful measures to revive the economy hurt the poor most. Reagan was never able to convince African-Americans that he was not racially prejudiced. His "Star Wars" space-age national defense plan led to fears of a nuclear war, and the rise of the home computer to fears of unemployment.
President G.H.W. Bush's Blues deals with the fight against drug abuse, and comments on the Gulf War. The President's failure to tackle the economy cost him his initial popularity.
President Clinton's Blues shows how strongly African Americans supported the most popular of these six presidents. Even in the midst of the Monica Lewinsky scandal they did not lose faith in him, and there was admiration for the way he restored the economy.
President G.W. Bush's Blues provides evidence of the growing dissatisfaction with an unpopular president. The wars in Afghanistan and Iraq after the bombing of the Twin Towers were criticized in song, as was the badly-managed flood relief after Hurricane Katrina.
President Obama's Blues is a unique final chapter in this presidential series, as this president's father was from Africa. Songs about the superhuman expectations African Americans had of him are analyzed, and the gradual disappointment with Obama's actual achievements is shown in songs about the bailout of banks and car factories.
Product Details:
Format:                       Paperback
Publication Date:        December 2012
Publisher:                   Agram Blues Books
Thirty-seven of the songs discussed in the text are available on two different CDs produced by Agram Blues (ABCD 2024 about Carter, Reagan and Bush Sr. and 2025 about Clinton, Bush Jr. and Obama) to accompany this book. Digitally remastered and featuring full liner notes by the author, the CDs are unique historical documents of these presidencies.
CD:
The Carter, Reagan, Bush Sr., Clinton, Bush Jr. & Obama Blues: Vol 1
CD: The Carter, Reagan, Bush Sr., Clinton, Bush Jr. & Obama Blues: Vol 2
---
We Also Recommend
---