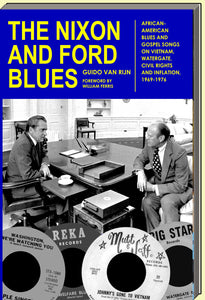 The Nixon and Ford Blues
SKU: AG-Bk3
Hardback Book
The Nixon and Ford Blues: African-American Blues and Gospel Songs on Vietnam, Watergate, Civil Rights and Inflation 1969-1976
Description:
The Nixon and Ford Blues starts with an assessment of the blues and gospel artists' response to the first landing on the Moon. Next Nixon's often misunderstood civil rights contribution is analyzed. Special attention is paid to Nixon's impressive support of education desegregation at a time of campus demonstrations, urban violence and ghetto trouble. Although Nixon had run for president promising to end the War in Vietnam, it would take four years before a peace treaty was signed. Blues and gospel songs about the first part of the war were studied in President Johnson's Blues, the musicians' response to the continuing entanglement in South-east Asia is discussed in this fifth volume.
The Nixon and Ford years were disastrous in economic terms. The war in Vietnam was a continuing drain on the exchequer at a time when inflation, welfare problems, unemployment, energy supply crises and sluggish growth deepened the recession. The blues was still an ideal means to vent frustration. When the Watergate scandal broke, trust in government reached an all-time depth and the singers were watching Washington suspiciously.
Gerald Ford was one of the most personally popular Presidents and is now mainly remembered for healing the country's divisions after Watergate and Vietnam. It took a long time before historians became sufficiently interested in his Presidency to seriously assess it seriously. For the blues and gospel singers Ford came as a relief after the Watergate scandal, but in contemporary songs he is mainly associated with unemployment, inflation and the energy crisis.
Product Details:
Format:                       Paperback
Publication Date:        April 2011
Publisher:                   Agram Blues Books
Forty-two of the songs discussed in the text are available on two different CDs produced by Agram Blues (ABCD 2022 about Nixon and 2023 about Ford) to accompany this book. Digitally remastered and featuring full liner notes by the author, the CDs are unique historical documents of the Nixon and Ford presidencies.
CD: The Nixon & Ford Blues Vol 1
CD: The Nixon & Ford Blues Vol 2
---
We Also Recommend
---